Breathe. Notice. Enjoy! By CortneyJo Sandidge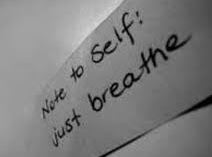 Ever gotten up early on a Saturday morning with an errand to run and found yourself in your parking spot at work? Ha! Well, maybe you haven't made it all the way to work, but you were close when you remembered it was Saturday. What helped you to remember was the commute seemed quicker than normal as the streets had less traffic and you were beating your normal time. Finally when it dawned on you it was Saturday, you cracked up, shook your head, turned your car around and headed toward your original destination. Yep, this can happen sometimes, we get so used to our daily routine that we are on auto pilot, and we find ourselves just driving.
The work we do every day in Financial Aid is important! We are meeting with students and their families, answering phone calls, responding to e-mails, working reports, training, prepping for a presentation, etc. There may even be times when we stay late just to finish it all or get to a good stopping point. And yes, on these days we may feel it's a lot, but at the end of the day, we know it is all worth it. Yes, our students are worth it. But guess what? You are too!
It is equally important that we are taking care of ourselves and I'm not just talking about the obvious things, eating right, sleeping, exercising, etc. But taking the time to just B.R.E.A.T.H.E, be present in the moment and aware of our surroundings. During your next early morning commute (actually to work this time, haha) allow yourself notice the beautiful scenery along the drive. Try not to think about the workday of ahead of you, because it will be there waiting for you when you get there, trust me. Breathe. Notice. Enjoy! These three things will make for a good start to your workday.

1 THOUGHT ON "BREATHE. NOTICE. ENJOY! BY CORTNEYJO SANDIDGE"
GenaGena on September 16, 2015 at 6:49 pm said:
A great reminder this time of year – I'm sure we've all had a moment within the last month where we could have used your advice to stop, take a breath, and enjoy the positive in our lives!
Share this post: