The MASFAP Money Challenge! By CortneyJo Sandidge, Early Awareness Committee Chair
Ready, set, CHALLENGE!! When you were 21 – 22 years of age preparing for your first year on your own financially with your first job, did you ever complete an annual budget ahead of time to plan? Well, that is what these college students did on a beautiful, sunny day this past April!
The Early Awareness Committee worked hard to develop a workshop that would help college students to not only prepare mentally for life after college, but to prepare financially (by practicing life after college). These 25 students were given a career based off their actual major, a starting salary for that career field and their actual student loan debt to date (if consented). They were challenged with completing an annual budget using their monthly income AFTER taxes, that's right after taxes! We tried to make it as close to the real world as possible folks. They were also given options to purchase health and life insurance plans to be deducted before taxes.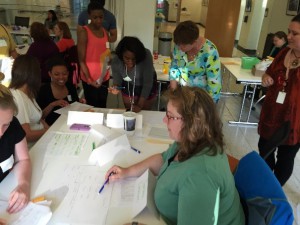 The students went around to each station (fictional), such as the Boling Bank, Savings and Loans, Barnes Auto Sales, and the Kearney Grocery and Everything Else Store, just to name a few, to purchase their necessities. In order to purchase a car at Barnes Auto Sales, they had to go to the Boling Bank to get approved for a car loan (if they could not just pay cash for the entire amount). While at the bank, their credit was run (fictional prepared credit reports) and depending on their credit score and history, they were given the approval stamp or the DENIED stamp. I was also walking around with a basket full of fortune and misfortune "financial" chance cards for them to draw from, haha! Hey, as we all know, life happens.
Not only did the early awareness committee members and other volunteers have a blast, the students had a blast as well! It was definitely a lot fun! And, although this was a game, the students were able to gain a lot beneficial information. Below are a few quotes (gathered from survey results) from the students who participated in the event.
"I've become a lot more conscious about how I should spend my money once I graduate. I had no idea that so much money was initially deducted from a paycheck, and it was a struggle at times to figure out what I should pay for when. I even got some insight into some ways that I can try and conserve money now so that I won't run into as much trouble in the future"
"It's never too early to start budgeting and watching my spending habits. Also, I thought it was going to be a lot harder to complete the annual budget sheet, however, it wasn't too bad. I actually enjoyed looking back on my spending habits and some of the good (and bad) decisions I made"
"Every aspect of the workshop was beneficial"
Three weeks following the workshop, all the students who participated were given an individualized report detailing how well they budgeted. Some students spent more than they had and some spent way less, but all in all, it was a great exercise, the students learned a lot and most of all had FUN! The goal was not only to teach them about budgeting, but also to teach them that budgeting does not have to be overwhelming, it can be done and they will be better for it in the long run!
Next on the agenda for the Early Awareness committee, is to host the MASFAP Money Challenge again, but to High School Students! Their challenge will be to budget their first year living off campus, using their financial aid package (the packages will be fictional). Wish us luck!
If you are interested in assisting with the next workshop for High School students, please let me know! [email protected]
Share this post: