Hill Day Recap by Zach Greenlee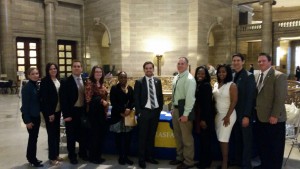 The rescheduled MASFAP Hill Day in Jefferson City allowed our organization an important opportunity to speak directly with legislators on both sides of the aisle, in both the House & Senate. We had fourteen MASFAP members attend and have personal conversations meet with 12 representatives (at last count). Many appointments had to be cancelled because budget hearings were taking place, and because the General Assembly goes on their own spring break last week, they had a lot of activity keeping them from being in their offices.
We took every opportunity we could get to share with them the deep history of MASFAP, our mission, values, and friendly faces. Some of us found ourselves walking with them in the hallways between their meetings just to get two minutes to talk, and others were able to get a side alcove meeting with a representative during the general session. When it wasn't possible to meet with someone or if a meeting was cancelled, we left them with our one-page briefing document and contact information for MASFAP.
We are thankful that we had this opportunity to bring attention to student's financial needs with our legislators. Furthermore, we were able to build recognition of MASFAP as a credible, authoritative organization to speak to those needs. This is important when so many of our state legislators are brand new. In fact, due to 8 year term limits, most have only been involved with matters of state funding since the Great Recession and don't know how deep student grant programs have been cut in the past decade. We will continue our efforts again next year and hope you are able to join us.
A sincere thanks to all who attended or made it possible for someone from your staff to attend.
Also, check out Rep. Keith Frederick's Capitol Report – MASFAP made it in! (our name is just a little off) http://us3.campaign-archive1.com/?u=a166f31149221385f73ace1a6&id=f9fd4643bc&e=31f5710f21
1 THOUGHT ON "HILL DAY RECAP BY ZACH GREENLEE"
GenaGena on March 23, 2015 at 4:19 pm said:
I'm so glad MASFAP was represented so well in Jefferson City! Good work, colleagues – every little bit helps! I look forward to seeing another group attend next year and hope we can make connections at local offices and perhaps individual visits throughout the rest of the year! Great work, Zach!
Share this post: