Public Hearing on Financial Aid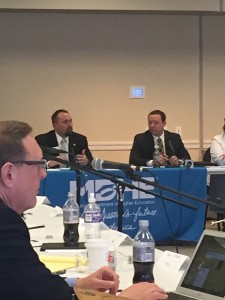 On Monday, Missouri Coordinating Board of Higher Education and the Missouri Department of Higher Education Steering Committee held a Public Hearing for the development of a new coordinated plan entitled Preparing Missourians to Succeed: A Blueprint for Higher Education. This Steering Committee has held public hearings throughout the state in an effort to gain public input during the development phase of the coordinated plan. On March 16, 2015 they met to hear public testimony on a very important topic to our community – affordability, state and federal student financial aid programs, and financial literacy.
This public hearing was held at Truman State University from 9:30-4pm. Three of our members provided testimony on a panel and the floor was open to provide public testimony. Also, Leroy Wade, Deputy Commissioner, Missouri Department of Higher Education, presented information on state and federal financial aid.

1 THOUGHT ON "PUBLIC HEARING ON FINANCIAL AID"
GenaGena on March 18, 2015 at 4:35 pm said:
I believe there are four of our members on the panel in addition to Mr. Wade – fantastic job to each panelist, it's so important we bring our mission to the forefront of the conversation. Thank you, MASFAP members!
Share this post: